"How old you are is

Your

business.  How young you look is

Our

business"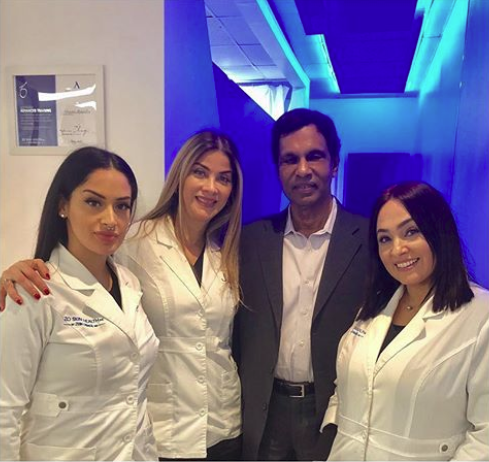 Dr. Shan Nagendra
Dr. Shan Nagendra is Board Certified in the following:
– Pain Medicine
– Anesthesiology
– Neurology
He received his medical degree from University of Peradeniya Faculty of Medicine, has been in practice for over 30 years and is affiliated with St. Mary's General Hospital. After decades of practicing pain management and treating neurological disorders, Dr. Shan decided to expand his knowledge and expertise to a broader audience in aesthetics.
At our clinic patients can pursue cosmetic rejuvenation any kind in a professional, comfortable environment with the knowledge that the treatments they received are performed by trained medical professionals and aestheticians, under Dr. Shan Nagendra tutelage
We look forward to helping you become the best version of you!
Neraida
Neraida grew up having a passion for aesthetics and the science of skincare.  Knowing that having a solid education is of vast importance, she focused on establishing a career in medical aesthetics and partnered with the top physician Dr. Shan.  
Her knowledge of cosmeceuticals and cosmetic procedures ensures that you'll get the best treatment available in your area.  Her sweet and sincere disposition, coupled with serious results and compassion, are a winning combination!  She truly enjoys helping her clients enhance their appearance so they can always put their best face forward.
"There is no greater satisfaction than knowing I've helped a client achieve far more than what they were hoping for."
Fenycie
Fenycie is a highly-trained, East Coast based make-up artist. Her love for art and make-up started at a very young age, and in 2009 her passion blossomed into a career. She took her talent of drawing and painting, and brought her artwork to life through make-up artistry.  She describes her make-up artistry as:
"Painting on a living canvas".

Today, Fenycie continues to work passionately, creating exquisite make-up looks on faces everywhere, and helping her clients to feel confident and look their best
"The make-up products are my mediums, artfully layered and blended to achieve the desired effect. In make-up artistry, no face is exactly like another. This is what makes it so beautiful and exciting."
Morayma
A highly trained medical aesthetics professional with over 16 years of experience in the art and business of beauty, Morayma always knew and felt that there was more to life than what can be seen…so she embarked on a life journey that awakened a love and passion for helping others. She admits that making others feel better about themselves is not something taken lightly.

"It is a privilege to make someone feel so safe and comfortable so as to share with me their inner most worries, concerns and/or insecurities."
She acknowledges that making someone look and feel good aesthetically is very rewarding but helping them rekindle the light in their heart, where true beauty resides, validates over and over again the path she chose.
Her honesty and no nonsense approach is balanced out by her calm compassionate demeanor making patients feel at ease in her hands.
In more recent years, she has fallen in love with the art of body sculpting. "Although quite laborious work…It's amazing to see how my hands can help transform a body!"